Product Categories

Read what our customers are saying...
"We have used a lot of different motor oils in our shop and customer cars but nothing compares to Admax performance lubricant. The eye opener at Bob George Racing was when we went to change bearings in the 2500HP HEMI blower engine of Don Martik. We pulled the bearings and couldn't believe the lack of wear on the bearings. They look as though we just took them out of the box. After that experience we were sold on Admax.
"
AJ Casini, Bob George Racing, LLC
Racing Lubricants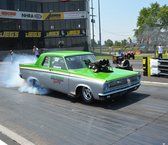 ADMAX meets the needs of racers and performance enthusiasts who depend on premium lubricants for the most demanding racing applications. No matter where you race or what type of power sports is your passion, ADMAX defines the standard in performance lubrication technology.
Due to price fluctuation, please contact us for latest price and availability information.

ADMAX Performance Oils
ADMAX Performance Oils are manufactured from the highest quality base oils in the world. The very best additive systems are used to enhance the total quality of the product. This state-of-the-art oil is applicable for all high performance racing, as well as street and commercial use.
ADMAX is available with or without Molybdenum Disilfide (MoS2) held in colloidal suspension. ADMAX Performance Lubricants meet and exceed all manufacturer specifications, foreign and domestic.
ADMAX Moly Maxi Racing Oil is available in quarts (gear lube only), 5 gallons pails and 55 gallon drums.
Moly Maxi 5W30 Racing
Recommended where low internal friction is desired for maximum power (late model stock car,
drag racing, etc.)
Moly Maxi 10W40 Racing Oil
Recommended where higher viscosity is needed, such as high temperatures at various RPMs. Great for all weather, hot and cold street driving.
Moly Maxi 20W50 Racing Oil
Recommended for maximum high temperature protection where increased durability is needed.
Other viscosities are available for special applications upon request.
ADMAX Gear & Transmission Lube
These gear and transmission lubricants are demulsible, cohesive and adhesive gear lube with (MoS2) in colloidal suspension. Reduces friction, decreases wear, reduces temperatures and increases power to the rear wheels.
This gear oil is absolutely the BEST!
Moly Maxigear RGO #3
Racing's highest quality friction reducing gear oil. Recommended for long duration racing where durability is critical. Also for pro-street driving. Not for limited slip rear ends.
Moly Maxigear RGO#1
Recommended for short duration racing where maximum power to the rear wheels is necessary. Not for limited slip rear ends.
Maxigear and Moly Maxigear are available in quarters and 5-gallon pails.
Maxitorque ATF/R
This automatic transmission fluid exceeds all ATF specifications. It decreases clutch and thrust washer wear. Improves shifting and reduces transmission temperature. Great for high-performance street cars as well as an excellent oil for your standard automotive.
Maxitorque/R
This ATF is the same as Maxitorque ATF only with a higher viscosity to meet extreme pressure and high torque loads. Recommended for all-out racing, towing and heavy commercial use. Maxitorque ATF and Maxitorque are available in 5-gallon pails.
ADMAX Grease and Maxiplex EP Grease
Hands down the BEST Grease available!
This grease greatly reduces friction and can withstand very high temperatures. Maxiplex EP is waterproof, acid resistant, white lithium complex grease that has a 70 Timken rating.
Excellent for wheel bearings and all chassis components in racing, as well as standard and commercial vehicles, and decreases wear.
Available in 14.5 oz. tubes, 35 lb. pails, 120 lb. kegs and 415 lb. drums.
Racing Oil Distributors
M. Reno Trailer Sales
13080 US Route 30
North Huntingdon, PA 15642
724/864-7366

Kiefer Coal & Supply
5088 West Library Avenue
Bethel Park, PA 15102
412/835-7900

S S Chassis & Supply
3010 Edgecliff Road
Lower Burrell, PA 15068
724/274-5502
Russell's Auto Sales, LLC
886 Twilight Hollow Road
Charleroi, PA 15022
724/483-3666
Bob George Racing, LLC
AJ Casini
256 Green Valley Road
Eighty Four, PA 15330
412/216-4727
aj@bobgeorgeracing.com
Follow Bob George Racing on
Facebook
Keystone Raceway Park
538 Stone Jug Road
New Alexandria, PA 15670
724/668-7600
Visit our website at
Keystone Raceway Park
Frankland Racing Supplies
105 W. Industrial Drive
Valencia, PA 16059
724/898-2111
Visit our website at (a href="http://www.franklandracing.com">Frankland Racing Supplies